vol.4: Hong Kong Political Graffiti & Buff (Online & IRL)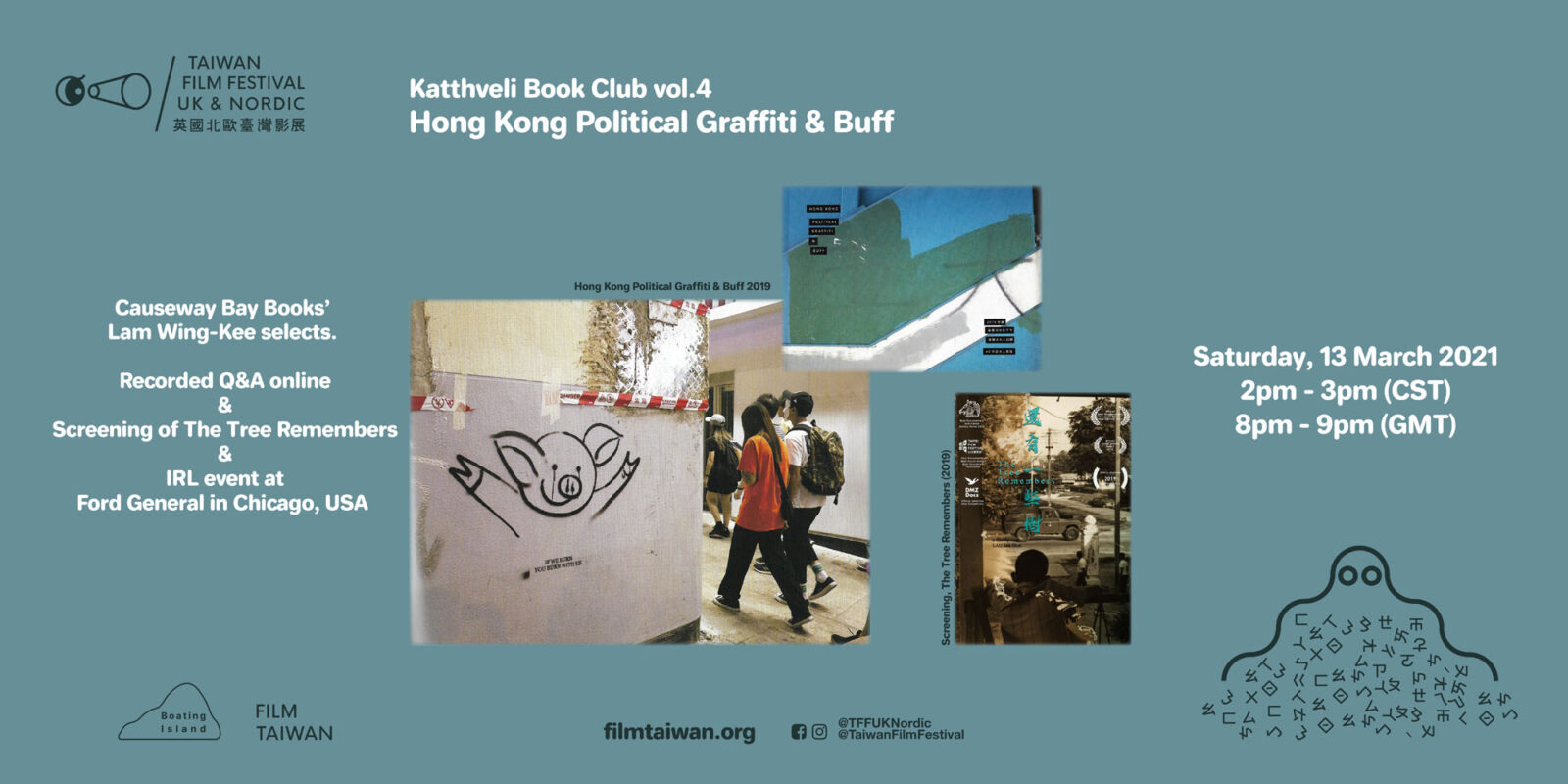 vol.4: Hong Kong Political Graffiti & Buff
(Online & IRL)
Saturday, 13th March 2021
14h-15h (CST); 20h-21h (GMT)
Causeway Bay Books' Lam Wing-Kee selects.
– Recorded Q&A online +
– IRL event at Ford General in Chicago, USA (more details to be announced soon)
A rare interview with abducted Hong Kong bookseller Lam Wing-Kee on his selection of books. Stories on Causeway Bay Books reopened in Taiwan in 2020.
This time we will read "Hong Kong Political Graffiti & Buff" to discover a Japanese journalist's journal of his stay in Hong Kong and a discussion on photojournalism.
This event aims to support freedom of speech and independent press.
About Ford General
Located in Old Town Chicago at 1712 N. Wells Street, Ford General is an everything store, sourcing products from Europe and locally. Serving the eclectic neighbourhood of artists, students, and professionals in which it sits, the store carries clothing, books, and decor. Run by partners Shannon Ford & Patrick Ford, the goal is to be part of the community by being a place of coming together through collecting, reading, speaking. Patrick is a storefront actor in Chicago, having trained at Green Shirt Studio.
Screening: The Tree Remembers (2019)
Following the spirit of "Katthveli Book Club vol.1 The Price of Democracy" last December, this book club will also discuss the film The Tree Remembers. The participants can watch the film on Vimeo.
About the Film
Derived from the proverb "What the axe forgets, the tree remembers", presents the current situation in Malaysia whereas the racial policy is still practiced in Malaysia and the victims forced to have remained in silence.
This film tackles the origin of racism in Malaysia and the taboo of racial riot in 1969.
Director Comment
For 50 years, the racial conflict of 13 May incident remained a taboo in Malaysia. It marked the beginning of racism policies and practise whereas victims are forced to be in silence.
This film dedicated to them. What the axe forgets, the tree remembers.
2019 | Kek Huat Lau | Documentary | 88 mins
Subtitles: English, Malay and Mandarin subtitles
Availability: Outside Taiwan