Guð Maður Hundur (流浪神狗人 God Man Dog)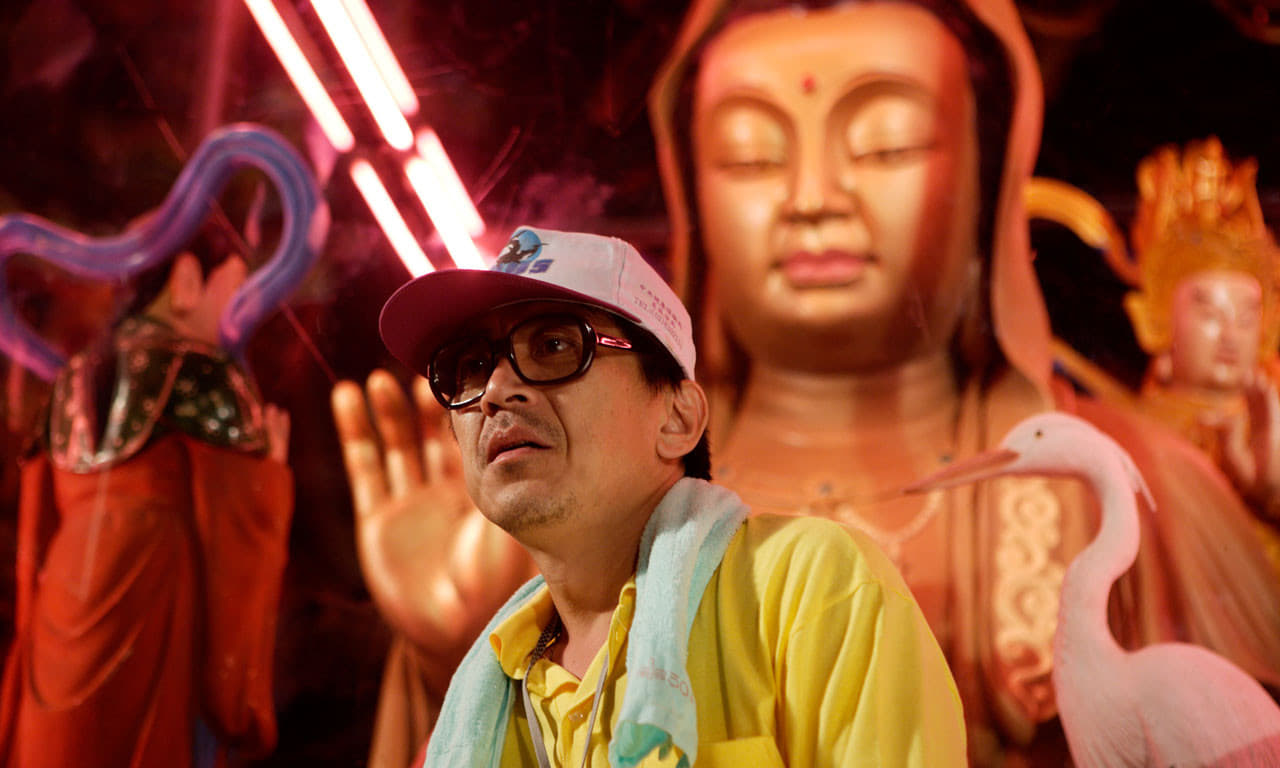 Titill: Guð Maður Hundur (流浪神狗人)
Tími: 17. mars 2019 20:00 – 22:00
Staður: Bíó Paradís
2007 / 119mín
Leikstjóri: Chen Singing
Tungumál: Mandarínska
Enskur Texti
Frumsýning á Íslandi
Um myndina
Leikstjórinn Singing Chen beitir margslunginni frásagnartækni, þar sem þrír hópar karaktera koma við sögu, til að segja flókna samtímasögu frá Tævan. Togstreitan á milli borgarlandslags vesturhluta eyjunnar og dreifbýlla sveita austurhluta hennar birtast hér í "BOT innrás" austurstrandarinnar, leiddri af fasteigna-kapítalistum, og í daglegum keyrslum bænda frá strjábýlum austurhlutanum með ávexti á borgarmarkaði vesturhlutans. Vegna sósíal-pólítískrar sögu Tævan skarast stéttarbaráttan oft á milli þjóðarbrota. Þetta sést greinilega hjá pörunum tveimur í myndinni: annars vegar millistéttarfjölskylda af Han-ætt og hins vegar frumbyggjafjölskylda af verkalýðsstétt. Myndin reynir að draga fram mismuninn á milli húsa, heimila og fjölskyldna. Sumar fjölskyldur sundrast þó þær búi í stóru húsi. Aðrir reyna hvað sem er til að sameina fjölskylduna á ný. Enn aðrir eru heimilislausar og búa án þaks eða veggja en fjölskylduböndin byggjast á óvenjulegu sambandi föður og sonar á vergangi. Tævan er eyja innflytjenda og sem slík samanstendur hún af ýmsum trúarhópum, kristni, taóisma, zen-búddisma og andatrú ættarsamfélaganna. Samt sem áður er það svo að þegar að herlögunum er aflétt og styttunum af einræðisherrunum er velt af stalli tekur kapítalískt einræðið við af pólitíska einræðinu. Fólk tilbiður goð sín til að öðlast auð og gæfu en þegar efnahagsbólan hjaðnar eru skurðgoðin yfirgefin. Hinn bæklaði Guli Boli tekur að sér goðin þar sem þau eru á flækingi og veitir þeim húsaskjól sem tákn vonar um andlega endurlausn.
Stutt samantekt
Ching er þunglynd hand-fyrirsæta sem reynir að losa sig undan sársaukanum sem fylgir því að missa hvítvoðung en hvorki trúin né ástarsambönd af ýmsu tagi virðast geta hjálpað henni. Eiginmaður hennar er arkítekt sem er á kafi í peninga- og valdatafli fasteignamarkaðarins. Til að reyna að bjarga hjónabandi hjá þessa borgaralega millistéttarpas heldur það í ferðalag til Austur-Tævan. Frumbyggjaparið Biung og Mei ferja í sínu brauðstriti fyrsta flokks ferskjur á milli fjarlægs ættbálks í Taidong og höfuðborgarinnar Taipei. Þau finna þó fyrir því að þau eru jafnvel álitin minna virði en sjálfar ferskjurnar. Savi, dóttir þeirra, yfirgefur heimilið og heldur til Taipei til að flýja drykkjusjúkan föður sinn og einbeitir sér við það að stunda hnefaleika. Hinn einfætti Guli Boli keyrir trukk sem hann þekur skurðgoðum og styttum af ýmsum stærðum og rekur um í leit af fleirum í safnið. Heimilislaus drengur ferðast með honum og safnar ýmis konar heillagripum til að öðlast blessun og saman búa þeir á vegum úti. Flækingshundur veldur banaslysi og líf persónanna í þessum þremur hópum tekur breytingum í kjölfarið.
Title: God Man Dog (流浪神狗人)
Time: 17 March 2019 20:00-22:00
Venue: Bíó Paradís
2007 / 119 min
Director: Director Chen Singing
Language: Mandarin
Subtitles: English
Iceland premiere
About this film
Director Singing Chen employs multi-narrative, including three sets of characters, to tell a complicated story of contemporary Taiwan. The city-country conflict between the western part and the eastern part of the island appears as the "BOT Invasion" of the eastern coast led by real-state capitalists, and the farmers' daily drive carrying the fruits from the rural east to urban markets in the west. Due to Taiwan's socio-political history, class conflict often overlaps with ethnic groups. It is sharply shown in the two couples in the film: one is the middle class Han family, and the other is the working class aboriginal family. This film tries to distinguish the differences between house, home, and family. Some own a grand house with a family falling apart. Others are trying hard to achieve family reunion. Still others are homeless, living a life without roof and walls, but form an alternative father/son family on the road. Taiwan is an immigrants' island, and consequently includes various religions, such as Christianity, Daoism, Zen, and tribal spirits. However, after martial law is lifted and the dictator's statues are toppled, capitalist dictatorship replaces political dictatorship. People worship deities to gain luck and fortune, but the deities' statues are deserted when the economic boom fades. The crippled Yellow Bull picks up and shelters the wandering gods, which symbolizes the hope for spiritual redemption.
Synopsis
Ching, a depressed hand model, tries to release herself from the pain of losing a newborn baby, but neither religious belief nor random affairs can help her. Her husband is an architect, deeply involved in the power/money games of real estate business. This urban middleclass couple's marriage is in crisis, so they go on a trip to eastern Taiwan, hoping to redeem their relationship. An aboriginal couple, Biung and Mei, toils to live a poor life, transporting top-grade peaches between a remote tribe in Taidong and Taipei city every day. Yet they find themselves less valued than even the peaches. Their daughter Savi leaves home for Taipei to rebel against her alcoholic father, and now devotes herself to boxing. One-legged Yellow Bull drives a truck, filled with deserted god statues of various sizes, roaming around to pick up and shelter more. A homeless boy accompanies him, collecting all sorts of amulets to earn blessings. The two live on the road. Then there's a fatal car accident caused by a stray dog. The lives of the three groups of characters converge and their lives are changed as a result.