Ofur Búdda + (大佛普拉斯 / The Great Buddha+)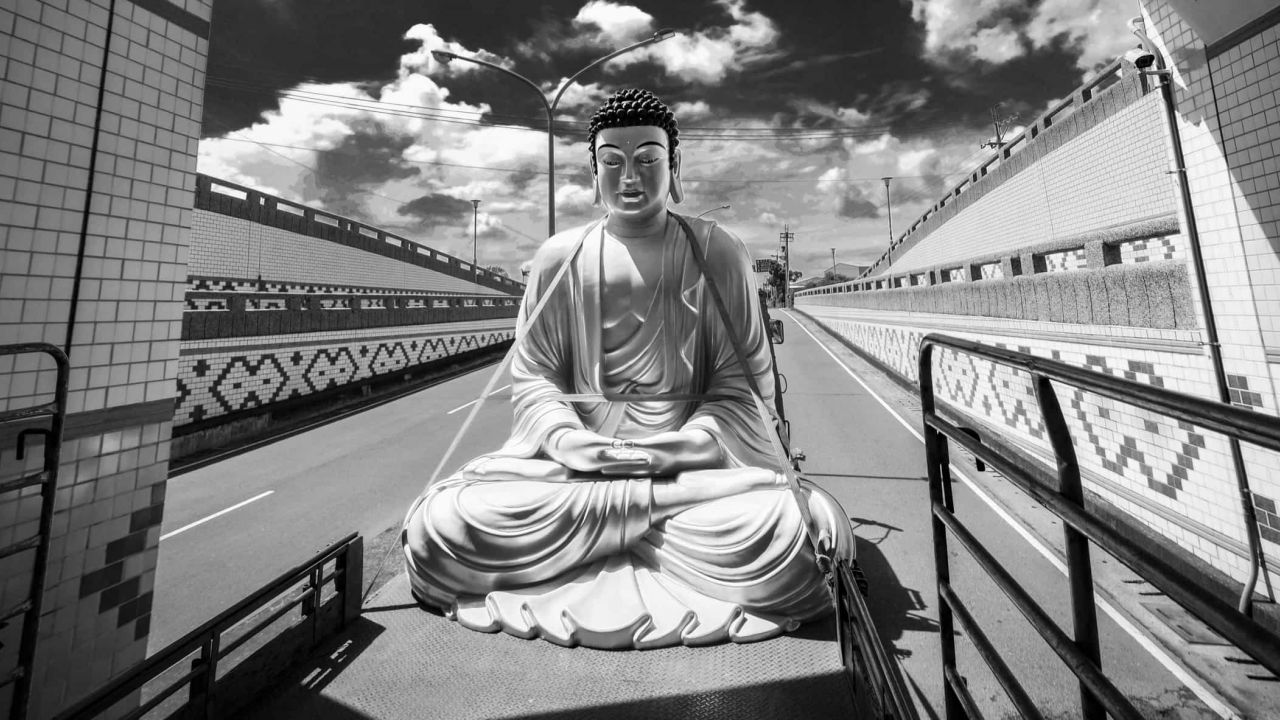 Titill: Ofur Búdda + (大佛普拉斯 )
Tími: 8. mars 2019 20:00 – 22:00
Staður: Bíó Paradís
2007 / 104mín
Leikstjóri: Huang Hsin-YAo
Tungumál: Tævanska, mandarínska
Enskur Texti
Frumsýning á Íslandi
Um myndina
"Mig hefur alltaf langað til þess að segja sögu af einhverjum gleymdum stað eða fólki í Suður-Tævan. Mér finnst að sú spaugilega mynd sem dregin er upp af tævönsku fólki í sjónvarpi og kvikmyndum nái sjaldnast að fanga hið sanna eðli lífs okkar. Það er fullt af hlægilegum atvikum í okkar lífi og þegar við sjáum þau framreidd á kvikmyndatjaldinu þá hlæjum við upphátt. En einhvern veginn finnst mér eins og þessi hlægilegu atvik eigi í rauninni rætur sínar í sorginni. Við getum aðeins horfst beint í augu við þau og síðan haldið áfram með líf okkar. Ef okkur finnst við vera hjálparvana þá gæti það verið okkar leið til að fást við vandamálið." – Huang Hsin-Yao, leikstjóri
Stutt samantekt
Pickle er næturvörður í bronsstyttu-verksmiðju sem spilar einnig í jarðarfarar-hljómsveit þegar að tími gefst. Pickle lifir við rýrar tekjur og býr hjá aldraðri móður sinni. Nabbli, besti vinur hans, er í dagvinnu hjá endurvinnslunni og eftirlætisiðja Pickle í dauðum stundum á næturvaktinni er að fletta í gegnum klámblöðin sem Nabbli safnar. Saman eyða þeir iðjulausum nóttum við nætursnarl og sjónvarpsgláp. Dag einn eftir að sjónvarpið bilar tekur líf þeirra stakkaskiptum. Þeir byrja að gamni sínu á því að horfa á upptökur úr bíla-myndavélum yfirmanna sinnaen verða fljótt háðir því að liggja á gægjum og fylgjast með litríku einkalífi þeirra. Fyrir slysni komast þeir síðan að hrikalegu leyndarmáli yfirmannanna. Þetta hefur allt í för með sér stórbrjálaða keðjuverkun atburða þar sem meira að segja Búdda-stytta, sem er við það að vera send á trúarhátíð, kemur við sögu í kaótískri atburðarrás. Guðirnir sjálfir, kynórar miðaldra manna og samtöl drauga og manna koma þar einnig við sögu. Áhorfendum kann að finnast sagan fjarstæðukennd en er lífið sjálft ekki einn stór farsi?
Verðlaun
54. verðlaun Gullna Fáksins (Óskar kínverska málsvæðisins):
Besti nýi leikstjórinn, Besta handrit byggt á öðru efni, Besta kvikmyndatakan, Besta kvikmyndatónlistin, Besta frumsamda lagið.
19. Taipei Kvikmyndaverðlaunin:
Aðalverðlaun.
Title: The Great Buddha+ (大佛普拉斯 )
Time: 8 March 2019 20:00-22:00
Venue: Bíó Paradís
2017 / 104 minutes
Director: Huang Hsin-Yao
Language: Taiwanese, Mandarin
Subtitles: English
Iceland premiere + Q&A
Taiwan Film Festival Iceland Opening Film with StockFish Film Festival
About this film
"I have always wanted to tell a story about some forgotten place or people in the southern Taiwan. I feel that the comical portrayal of Taiwanese people on television or in film often fail to convey the true nature of our lives. There are many laughable things in our lives, and when they are depicted in the movies, they make us laugh out loud. But somehow I feel that these laughable things actually stem from sadness. We can only look at it directly and then carry on with our lives. If we feel helpless, it may be a way of coping." – Director Huang Hsin-Yao
Synopsis
Pickle is a night security guard at a bronze statue factory, who also plays in a band at the funerals when time allows. Earning a meager income, Pickle lives with his elderly mother. His best friend Belly Button works as a recycling collector during the day, and Pickle's biggest pleasure in life is flicking through the porn magazines Belly Button collects in the small hours in the security room. Having late night snacks and watching television are an integral part of their dull lives. One day when the television is broken, their lives are changed forever. At first, they watch the footages recorded on their boss's dash cam for fun, and soon they get addicted to peeping into the boss's colourful private life and accidentally discover the boss's unspeakable secret. As a result, a ridiculous chain reaction is triggered, and even the statue of Buddha, ready to be sent to the religious festival, is forced to play a role in this chaotic situation. The story involves gods, the middle-aged men's sexual desire and the conversation between ghosts and humans. Maybe the audience will find it preposterous, but isn't life itself a farce?
Awards
54th Golden Horse Awards (Chinese-language Oscars):
Best New Director, Best Adapted Screenplay, Best Cinematography, Best Original Film Score, Best Original Film Song
19th Taipei Film Awards:
Grand Prize